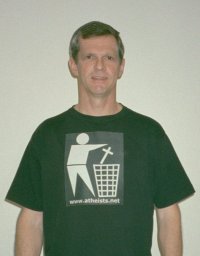 "Everything said in the context of a god being real is mere nonsense."
Darwin Bedford,
Atheists.net author

Some of this content is intended for those of you who are still religious and some of this content is for those of you who are already non-religious.
List of sites by Darwin Bedford:

AtheistMessiah.com

Atheists.net

CampaignToKillJesus.org

666shirts.com

DenormalizeReligion.com

undoJesus.org

undoGod.com

if-Jesus-returns-kill-Him-again.com

undoMuhammad.org

undoAllah.org

undoIslam.org

MindFraud.com



Darwin Bedford
Caught Like Monkeys
There was program on TV recently showing how people in Africa catch monkeys with a wire cage and some bananas. The wire grid of the cage is just large enough for the monkeys to get their hands through. The cage is placed upside-down on the ground with the bananas inside. When a monkey reaches in and takes hold of a banana, it cannot get its hand back out again while holding onto the banana. At this point the trappers can walk right up to the dumbfounded monkey and throw a sack over it. The monkey will not let go of the banana in order to escape capture.

Well, we just couldn't resist making this analogy: The monkeys are theists and the bananas are life-after-death, all the-answers-in-one-book, an imaginary super-father companion. The cage is the place of worship and the captors are the priests and mullahs who stand to profit from their catch.

Like those ill-fated monkeys, theists refuse to let go of the bait and they have lost their freedom.
EVERYTHING SAID IN THE CONTEXT OF GOD BEING REAL IS MERE NONSENSE.
If you would like to advance the world to be deity-free, then may I recommend donating to the
Voters Without Religion Association.


Help dereligionize the world. Click on the above button to donate.
Darwin Bedford—active on the internet since 1996
Last updated on secure site: March 28, 2020
You are welcome to copy and disseminate the contents of this site.