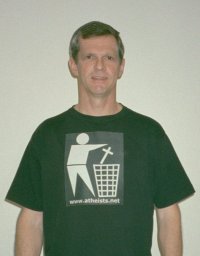 "Everything said in the context of a god being real is mere nonsense."
Darwin Bedford,
Atheists.net author

Some of this content is intended for those of you who are still religious and some of this content is for those of you who are already non-religious.
List of sites by Darwin Bedford:

AtheistMessiah.com

Atheists.net

CampaignToKillJesus.org

666shirts.com

DenormalizeReligion.com

undoJesus.org

undoGod.com

if-Jesus-returns-kill-Him-again.com

undoMuhammad.org

undoAllah.org

undoIslam.org

MindFraud.com



Darwin Bedford
Disclaimer for Darwin Bedford as a Spiritual Reality Therapist
by Darwin Bedford
I am only a college dropout and a lowly COBOL weaver by trade, but I do hold a (self-proclaimed) Doctorate of Armchair Philosophy—so, I do like to express myself a lot.

I have never taken a philosophy course nor a psychiatry course nor any course in the field of social sciences. I am not responsible for your interpretation or your actions after reading what I have written. If you are severely disturbed by something that I have written, then please seek assistance from the least religious person you know and respect.
---
(Written and posted by Darwin Bedford somewhere between 1996 and October 1998.)

EVERYTHING SAID IN THE CONTEXT OF GOD BEING REAL IS MERE NONSENSE.
If you would like to advance the world to be deity-free, then may I recommend donating to the
Voters Without Religion Association.


Help dereligionize the world. Click on the above button to donate.
Darwin Bedford—active on the internet since 1996
Last updated on secure site: March 5, 2020
You are welcome to copy and disseminate the contents of this site.