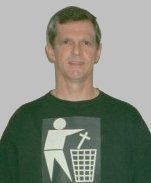 With the powers vested in me as the Atheist Messiah I hereby declare religion passť.
Jesus is a No-Show
The story of Jesus Christ proclaims that He will reappear. He has not, and it has not been for 100 years, nor has it been 1,000 years, but it has been for a whopping two thousand years. Generations upon generations of people have been misled for their entire lives. It is time that we persuade believers of this story to accept that Jesus is a no-show.
All religions are cults that grew in popularity. Dogma was passed from one weak-minded person to the next like a disease until it became an "established religion."
It is time to consider religion in a new light -- as an aberration of our past.