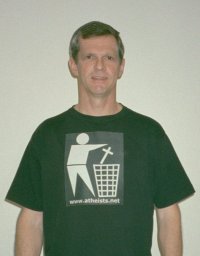 "Everything said in the context of a god being real is mere nonsense."
Darwin Bedford,
Atheists.net author

Some of this content is intended for those of you who are still religious and some of this content is for those of you who are already non-religious.
List of sites by Darwin Bedford:

AtheistMessiah.com

Atheists.net

CampaignToKillJesus.org

666shirts.com

DenormalizeReligion.com

undoJesus.org

undoGod.com

if-Jesus-returns-kill-Him-again.com

undoMuhammad.org

undoAllah.org

undoIslam.org

MindFraud.com



Darwin Bedford
Letter of Apology From Christendom
by Darwin Bedford
e-mail: darwin@atheists.net
Today's Christians are wanting to separate themselves from the triumphalism of Christendom or pre-modern Christianity. "Christianity cultivated and imposed its version of 'correctness' on everyone and everything in Western society." writes Dr. Charles Taylor who is Emeritus Professor of Philosophy at McGill University. He goes on to say, "For Christianity to contribute positively to contemporary society, it must pay attention to what has happened. Only then will Christians shed their earlier triumphalism and seek instead to learn humbly from, as well as contribute charitably to, their neighbours in the new diversity of our times."

Personally, I think that it is only due to triumphalism that Christianity is so widespread. If Christianity were to succeed in shedding its triumphalism, then its number of adherents would shrink to that of the Flat Earth Society (whose members still believe that the Earth is flat). Although there are still many instances of Christian triumphalism in our laws and in our social fabric, I, as the Atheist Messiah and provider of spiritual leadership, have decided to participate in this official declaration of its ending.

Firstly, there needs to be an apology from the perpetrators of Christendom for all the suffering it has caused in our lives. So lets begin the healing process in the wake of Christendom (and for that matter in the wake of monotheism in general). Below is my own personal "Letter of Apology From Christendom", the words of which I would like to hear an official of Christianity, such as Pope John Paul II, say to me on behalf of all Christians.

Letter of Apology:

To Darwin Bedford:

I apologize for the Christians and Christian energies of all times for their trespasses committed and their lapses in manners and conduct. It is totally unacceptable.

I just found out (oh boy was I asleep) how pathetically we have really been treating you. This realization has made me sick (physically and mentally) and I sincerely seek your forgiveness through repentance.

There is no excuse for the way we have treated you and, from what I understand, still do. There is no reason for anything but unconditional love, unselfish sharing and total caring for who you are as an individual.

For all your lifetime we have done you so very wrong abusing you one way or another, consciously or not (no excuse will ever be acceptable here) and have in fact fueled the fire that retarded our mutual advancement to our total possibility. We did evil, because we have been absent of guilt.

If we feel guilty then this is a good sign that we are not entirely evil.

I want to apologize specifically for some of our transgressions:

1) We apologize for violating your person when you were just a few days old by hurting you by cutting the foreskin from your penis. We did so without your permission, and we regret that you view its altered appearance as unnatural and "silly looking." We understand your point that you now look like you could be a follower of our religion when in fact you are not. We're sorry that you have taken this action as receiving early notice in life of the Christian institution's intention and powers in exercising control over you without your consent.

2) We apologize for forcing you to stand up to recite the "Lord's Prayer" every day of your schooling and for forcing you to listen to readings from our holy book, the Bible. This was despite you making it abundantly clear that you did not believe in our God nor our holy scriptures. We regret that when you finally obtained permission to be excused from the religious activities in the classroom, that you were made to sit directly in front of the Christian who read them over the school's public announcement system.

3) We're sorry that you were left with no playmates every Sunday of your childhood because we forced them to participate in Sunday school, even though they strenuously objected. We also acknowledge that you hold the content of what we subjected them to as falsities.

4) We apologize for numerous times in your life that you were asked to pray to our God at social gatherings even though many a time it was known that not everyone present was a Christian.

5) We apologize for all the funerals that you have attended of people you knew where the format has been restricted and seemed like Christian infomercials.

6) We apologize for "torturing" you, as you say, for having to hear songs and music rejoicing the birthday of our Lord wherever you go in public for two entire months of every twelve.

No more, I promise—as of now this will change. I will encourage my fellow Christians to be more mindful of your rights and of the position you and many others have for our religion. We will no longer seek to confront you with our religion at every opportunity. In fact, we will proactively endeavor to minimize and eliminate the situations in which this is now occurring. We will lobby governments to remove the domination of our religion in all acts and laws governing the diversified, multicultural society of today.

As you can see, my life has not been seriously affected by Christianity—for I never subscribed to its teachings in the first place nor lived in a one-religion community. However, others may have horrific stories to tell. If you have suffered in your life due to Christianity or another religion, then I invite you to compose your own version of an apology. You may experience some release of suppressed emotions. This would be especially true if you were able to express it to others. So, if you compose a self-written apology from a religion, e-mail it to me. I will post it at the location linked below. I will not post your name nor your e-mail address unless you explicitly express to do so.

Thank you for the time that you have taken to read this post and I invite you to write or e-mail me regarding it. You need not disclose your name or address unless you are requesting a direct response to your comments or questions. I will post all worthy responses for people to read. 

Click here to VIEW SELF-WRITTEN APOLOGIES
EVERYTHING SAID IN THE CONTEXT OF GOD BEING REAL IS MERE NONSENSE.
If you would like to advance the world to be deity-free, then may I recommend donating to the
Voters Without Religion Association.


Help dereligionize the world. Click on the above button to donate.
Darwin Bedford—active on the internet since 1996
Last updated on secure site: February 11, 2020
You are welcome to copy and disseminate the contents of this site.